Huge boom of three-wheels skates!
It is few years, when top German producer Powerslide announced the revolution in inline skating and introduced the three-wheel skates to the market. From that time, this new type of skates received great feedback, and today all the producers of roller skates are producing the skates with three wheels. Both fitness, also racing models, off-road, urban or hockey skates.                    
About the three-wheels skates we also write in the article - Three-wheel skates - advantages and disadvantages
The owner of the company Powerslide, ex-racer Matthias Knoll, says to this: "We looked for something new, not only the little change, but something, which would return the shine and passion to the skating. I think, that in Triskates we found what skaters accepted very positively and they skate now as never before. The homework is fullfilled - we established the new style of skating."         
So what the three-wheel skates can do?
The original intention was to make the traditional concept of racing skates faster, with wheels 4 x 110 mm. The effort to use yet larger 4 wheels in the row didn´t prove itself, large wheels already made the frame longer and highered also the center of gravity of skater. German Powerslide then came with the idea to use only 3 wheels, but larger with diameter 125 mm. After the first tests the experienced racers started to have surprising times on longer tracks.           
Large wheels with the use of the correct strength and technique was able to get higher speed and better driving inertia than traditional skates with wheels 4 x 110 mm. It took some time, that the new 125 mm large wheels were approved by international federation of roller skating FIRS also on the racing tracks.  Now the skates with wheels 3 x 125 mm are dominating on long distance races. Three-wheel skates also have other advantages, thanks to which they expanded even to the other categories of roller skates, including sport skates, freeskate or classic fitness.                       
So what are the advantages then?
Three wheels make lower rolling resistance. Producers do equip three-wheel skates most often with the wheels in size 100, 110 or 125 mm, so then mostly experienced skaters will use them, who want to ride fast, but they also want to use maneuverability and easy controlling of shorter frame.          
Three larger wheels are also lighter than four smaller, so you will get higher speed with less energy given into it, and then skates are at the similar speed little lighter than four-wheel skates. 
Triskate skates moreover can hold higher speed also in turns. The main weight turns on the middle wheel, which makes higher maneuverability for the skates. At the row of models it makes stronger maneuverability the frame Trinity with three-point attachment, thanks to which the shoe is fitted much lower above the wheels, than at classic frames with two-point attachement. Lower center of gravity ensures also considerably better stability.           
Three large wheels comparing to the four smaller ones will more easily deal with the stones and various uneven places on the track.    
Last but not least, the three-wheel skates are much more maneuverable thanks to absence of the fourth wheel, the frame is then significantly shorter. Thanks to this also skates with the wheels 3 x 100mm happen to be easily menauverable and suitable also for average skilled skater.         
So when can you ride properly? They are also suitable for the longer tracks, where you can easily test your speed, which you have never riden before. Also thanks to the short frame they are preferable at maneuverable freeskate skates intended for slalom or ride through the city and thanks to the low weight and good maneuverability they are used at common fitness skates.      
From the upper mentioned reasons are the triskate skates suitable also for faster children´s models of skates. Eventually the advantage of the 3 wheels is used also at skates for the smallest, where 4 wheels in ratio to the small shoe too much extend the frame and skates at their maneuverability.         
Attention though, larger wheels generally higher the center of gravity, so if you will choose the skates with wheels 100 mm , 110 mm or 125 mm, then focus on quality and rigidity of the frame and the shoe, and try if the side stability of skate is suitable for you. This is also generally applied to the skates with four-wheels. Triskate skates are however equipped with larger wheels more often. More solid shoe will insure you then better stability. Triskate skates are then more often equipped with more solid shoes, which will ensure more easy maneuverability and ensure also perfet stability. They are also made on classic soft textile soft shoes for skaters preferring higher softness and comfort before playfulness, sensitive maneuverability and maximal performance.                         
Even though the three wheels are used also at children´s and common recreational skates, the biggest representation stays at skates with larger wheels 100mm+, where already relativelly longe frames at four-wheels variant lowers the maneuverability of skates. Who wanted to skated faster before, would have to deal with worse maneuverability of skates with four large wheels. Thanks to the concept of triskate you can enjoy hockey agility, predity and maneuverability and also the higher speed. If you think about moving the skating level higher, then the triskate are the best choice for you.              
The biggest advantages of the three-wheel skates
lower weight 
better maneuverability
possibility to eqquiped skates with max. large wheels 125 mm
lower rolling resistance
---
Three-wheel frames are being promoted both in urban riding also in professional inline hockey! 
On three wheels is made also compactible urban shoe of type DOOP. Simple but very solid construction where you can also fit your shoe. Thanks to this you can avoid often time consuming and complicated exchanging of shoes and skates. Construction is massively reinforced, so it is comfortable also right on the skin. The size of wheels is very variable from the diameter 100mm up to 125mm. You can only choose! Also on the three wheels are more often preferable Inlne hocke skates. Their new construction allows to players to develop higher speed than on four smaller wheels. Inline hockey skates are anchored on lowered Trinity chassis which ensures maximal maneuverability also in the full speed!                               
---
And what the racers alone say about the new skates?
Their largerst fan is maybe few times champion, speedskater Felix Rijnhen: " I was the fan of triskates from the total beginning. They are lighter and you can ride in them more easily and the balance is more balanced. Moreover they are unique just from the looking at them and don´t cost so much, although it is innovation on the high level."         
And here you can watch, how Felix in new skates overcomes the speed of 60 km/h:
---
Three-wheel skates are already used in professional freestyle slalom!
Also European master is getting to them,  freeskater Ewelina Czapla: "I started to use triskates for speed slalom, later for freeskating and today I can´t even imagine to come back to four wheels. Especially after I have tried skates Powerslide TAU with frame Trinity! Even I feel, that my skills for speed slalom on three-wheel skates are still better and better."
This is Ewelina very sovereign on three-wheels at slalom:
---
Into the city are the three-wheel skates clear choice!
If you want to go to the city with new triskates, you must to be really experienced riders. Even professional aggressive and urban skater Sam Crofts says to this: "No matter how I set the triskates, they are always faster and more alive than any other skates with four wheels, which I have ever had on my legs."
It seems, that in even the large city as is London, can be Sam on three-wheel skates everywhere on time:
Three-wheel skates are in the world of today inline skating probably the biggest challenge. So - will we pick up thrown chance? We already did and we are excited.      
---
Also other producers come to three-wheel skates...
Rollerblade
With the larger amount of the three-wheel skates we also meet at brand Rollerblade.  For three-wheels chassis Rollerblade chosen also besides proven shoe Twister, which they completely over-designed, then was originated totally new model Twister edge 110 3WD. On three wheels is also put on skate Rollerblade Metroblade 110 3WD, or Rollerblade Macroblade 110 3WD. Of course there is transfer to 3 x 125mm wheels at speeed skates Rollerblade Powerblade 125 etc.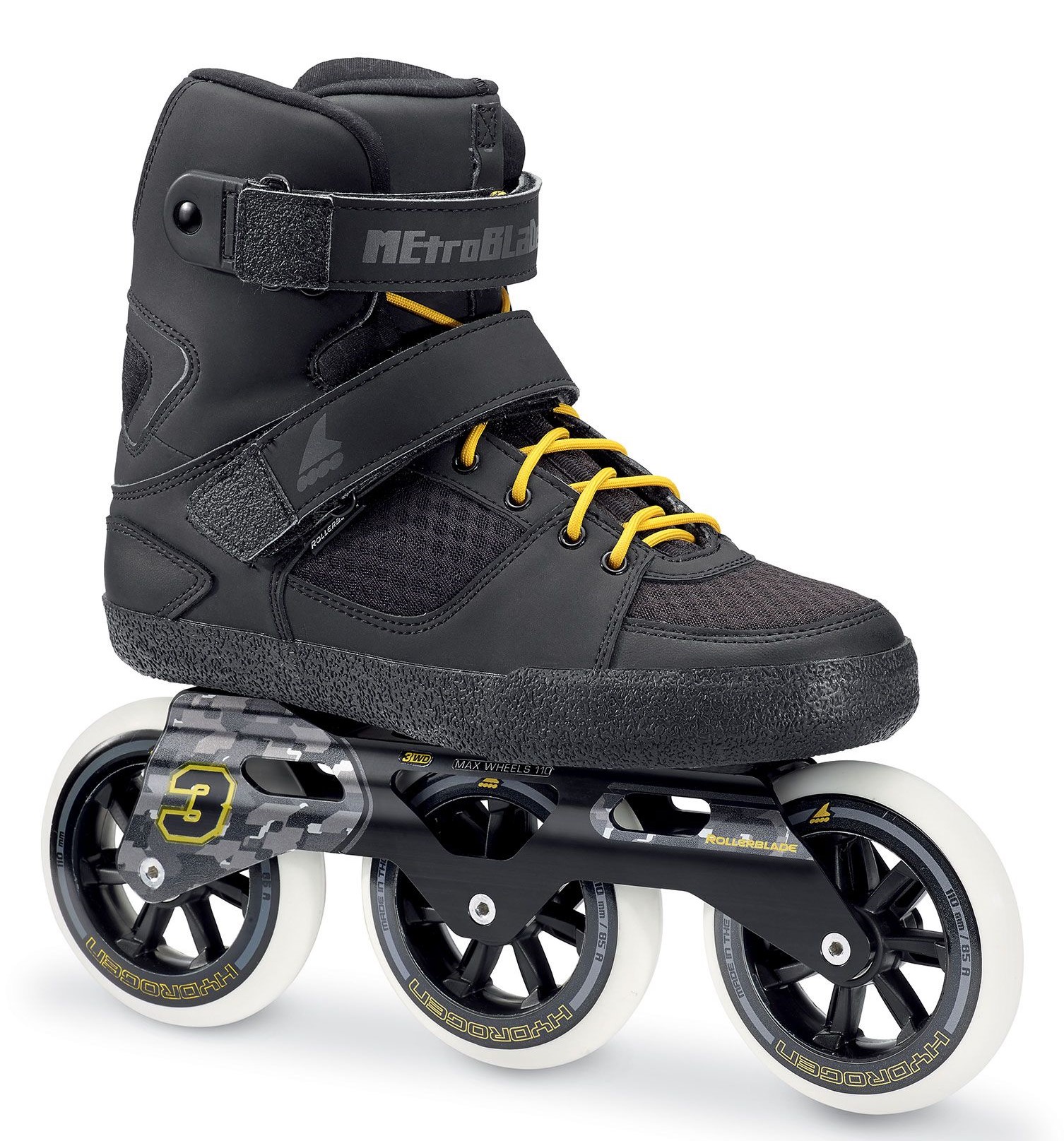 ---
K2
Portfolio of skates on three wheels expanded also american brand K2 with their model K2 Trio with solid shoe and maneuverable frame with wheels 3 x 100mm ultra light comfortable marathon K2 MOD 125, which combine wheels 125mm,120mm,125mm.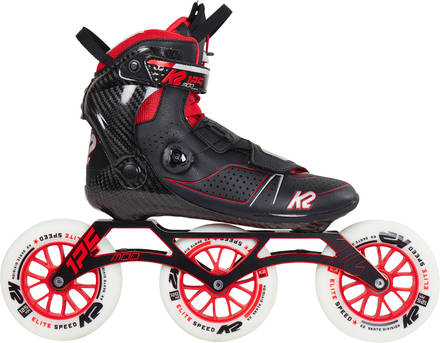 ---
Tempish
Also Czech produder Tempish does not stay on the side with improved model Cronos 125. Already few years known shoe Cronos is now equipped with 3x 125mm large wheels in chassis Rapid 3S uni. Thanks to the solid skelet is skate perfectly maneuverable also on these large wheels. Installing 3 x 125mm we also will find on racing skates Tempish Atatu.
---
Fila
Also another producer coming with the three wheels is well known italian brand Fila. For example with their skates Fila NRK Cabon Verso. Very comfortable lightweight carbon skate is perfectly maneuverable thanks to short 243mm frame on 3 x 100 wheels. Construction of skate is suitable for the ride in the city and also at freeestyle slalom. There are more models on three wheels, for example Fila Ghibli Verso, softer comfortable and good ventilated skate on short chassis with wheels 3 x 110 mm and others...