On April 7th, 2018 took a place in Prague´s Vysočany the second year event with name Inline Festival. Festival of roller skating took a place in shopping mall Harfa next to famous O2 arena. Even though it was sunny weather, hundreds of people visited this under roof event.
We organised festival in cooperation with exhibitors with clear intention. To introduce novelties from the world of roller skating for upcoming season 2018  to public. We also wanted to all interested parties to offer the possibility to not only see the skates, but also to test and try them, and this they could do on prepared testing circle, which was available to all visitors for free. 
To Inline Festival we invited all big players, who are interested in production and distribution of inline skates and accessories. Event was accompanied by rich accompanying program and there was a lot to see :-) Testing of skates and scooters, introduction of new collection, u-ramp, street zone, games for the children, price competitions. There you could also see performance of speedskating, rollerderby, freestyleslalom, but also aggressive skating or freestyle scootering. 
Also there was for all fans, thanks to Inline Festival, unique oppoturnity to try and test new models of skates for free, and ride on prepared circle which was this year, comparing to last year extended. 
Gates of festival opened at 10:00 a.m. and right away from the morning many people started to come. Their new collections of skates introduced brands K2, Powerslide, Roces, Fila and Tempish.
Next to proven producers of skates, there were also stands with inline accessories, scooter or inline school. It is needed to mention the largest world producer of inline wheels Hyper, probably the most famous producer of sport´s insoles Sidas. Scootshop introduced collection of freestyle scooters and skateboards.  
Exhibitors
K2
The same as last year, there was large interest in borrowing skates K2. American brand K2 brough interesting amount of models in their traditional mobile, perfectly exquipped stand. At random f.e. popullar fitness models  K2 Alexis 84 Boa and K2 F.I.T. 84 Boa. You could also try freeskate skates K2 Sodo, K2 Trio or K2 Uptown and also the smallest could try them thanks to children´models with adjustable size.  
---
Powerslide
As always, the stand with equipment of brand Powerslide attracted many people. No wonder, german producer is today for sure the largest pioneer of new technologies and top models for the most demanding. Under Powerslide also belong world known brands Matter -top producer of sport and racing inline scooters or  USD -legendarary brand and name in aggressive skating. You could test also interesting models, f.e. Powerslide Imperial Megacrusier 125, Powerslide Swell Trinity Ultrawhite 110 or children´ Powerslide Jet, which were thanks to neon colours definitelly not overlooked :) To try and test you could also trekking skates, longoboards and pennyboards.
---
Fila
Fila introduced cut out through fitness collection and offered to try not only popullar fitness models but also children´ adjustable skates for the smallest or beautiful  freeskate collection, row NRK. You could also see popullar models with technology Air Flow, which belongs to the best ventilated skates in the market. Interest was also about three-wheel model Fila Ghibli Verso with large wheels 3x110 mm and classic inline skates with smaller wheels. There were also introduced popullar retro trekking skates for children and adults. 
---
Tempish
With the row of new models there was also introduced czech Tempish. For testing there was flag boat of fitness collection, totally new model with comfortable tightening on steel rope, Tempish Black Shadow and Black Shadow Lady. For lovers of large wheels there was to your disposition also new model Tempish Cronos 125 and is needed to mention also new model Tempish I-Go, which has likeable ratio of price/performance. Next to classic inline skates you could also see wider collection of new quad skates and variety of offer was ended with totally overworked longboards, which came up significantly higher with quality thanks to cooperation with longboards from Chile, who were involved also on development of new collection.  
---
Roces
Legendary Roces showed cut out through the collection, including variety of helmets and popullar "trekking". One of the pioneers, who standed at inline already in 80th proved that still produces great skates. Models as Roces Gymnasium 2.0, Roces X35 or Roces Vici proved the quality and just because of  Inline Festival there was unique oppoturnity to try models from this italian brand.
---
Sidas
You very well know, how can quality insole to improve the performance. Also because of this we are happy, that this year at Inline Festival 2018 was introduced Sidas with their ortopedic insoles. Boys from Sidas offered also diagnosis of vault for free. Everybody could get advice from their foot print, which insoles are the most suitable and in what will quality insole help you. 
---
Hyper
Hyper is well known in the world of wheels. Brand with many years history belongs to the largest producers of wheels in the world. We are happy, that Hyper introduced its collection at Inline Festival. Everyone, who wanted to get advice with choosing of suitable wheels was at Hyper welcomed :)
---
Scootshop
Mostly freestyle scooters, but also classic folding scooters, longboards, skateborads or scooters for the smallest introduced Scootshop.cz from Martin Nogol.
---
Inlineskola.cz
Inlineskola.cz had to their disposition the stand, where you could ask anything about skating courses. Trainers were to your disposition for free and were as expected very busy. There was also possibility to register for skating courses at the place, or to city camps. 
---
Inline Centrum
Also we in the stand Inline Centrum were definitelly not bored. Our stand was from morning hours very busy. Festival discount of 20% on new models of inline skates attracted many interested parties and we were happy to help you with the choosing. 
Program
The same as last year, the whole event moderated our and your popullar moderator Jan Smetana.
Testing of skates
Testing of roller skates alone was one of the main motives of the whole event. Every visitor had the unique oppoturnity to test skates and scooters from collection for upcoming season 2018 for free. Part of testing was also possibility to rate the given skates in questionare. Everyone, who filled in a questionare, was addeded to the draw for value prices. Three winners were contacted via email and everyone will get goods in value of 3000 czech crowns, according to their own choice in shops of  Inline Centrum. 
Thanks to Inline Festival we could choose the best skates of the year 2018.
Winners of the draw:
Nikola Krobotová
Martin Hrbáček
Tomáš Laubert
---
Introduction of rollerderby (Prague City Rollerderby)
Accompanying program refreshed show of roller derby. The same as last year, there were girls from Prague City Roller Derby. Exhibition match with explaining of the rules attracted many just watching fans, who rewarded the girls for their performance with the loud applause. The judge was legend of czech quad skating and skateboarding Ivan "Zobák" Pelikán.
---
Freestyle skating and Czech association of skating (CAFB)
CAFB showed freestyle slalom in presentation of top czech girls and boys skaters. You could see also jumps over the visitors and similar pieces. Nobody was hurt, for which we thank you to the members of CAFB.
---
Inline School - skating courses for free and price competitions
Inlineskola.cz helped to organize games on scooters and on skates for the whole day, which took a place on the roof of shopping mall Harfa. The finale of the games were 2 main competitions for valuable prices from K2, Powerslide, Roces or Hyper and from the faces of children´ winners it was clear, that they were very happy.  
---
Speedskating and Roller Team Stars Praha
Speedskating you could see thanks to Roller Team Stars Praha. Speed skaters showed their skills on testing circle and also used this event to get new members. 
---
U-ramp and street zone - introduction of the czech top in aggressive skatings and freestyle scootering
The main part of the whole program was exhibition in u-ramp and street zone. At Inline Fetsival came to show their tricks real top of czech street skating and freestyle scootering. Masters of Europe and the World Martin Nogol, Petr Brabec, Martin Krutina, Petr Maňdák, Honza Chalupský and others. Thanks to these champions you could see perfect tricks, which were breath taking. Flips, turns and grinds in precise performance.
Ramp and street zone were at your own risk available to all fans when there was no exhibition, to try prepared street zone or ramp, you don´t just ride in shopping mall spaces over the obstacles every day. 
---
At the end
Second year Inline fetsival brought again much fun and unique oppoturnity to see and test all the novelties from the world of roller skating. We are proud to organize the evet, which will extend the interest for this beautiful sport. We are also fans of skating and the similar event was missing here. Meeting of all fans of skating under one roof has from year of 2017 name Inline Festival and know that there will be a lot to look forward in next years. 
We thank you to all exhibitors and all participators for excellent friendly atmosphere and all others, who participated on Inline Festival. 
---
Big names:
Martin Nogol - freestyle scootering (2x Master of the world, many times Master of Europe and Master of Czech Republic)
Tomáš -Brgul- Brandejs (ex Master of Czech Republic and representant of Czech Republic in freestyleslalome) 
Petr Manďák - inline skates, 15 years riding exhibitions.
Petr Brabec - inline skates, 17 times Master of Czech Republic in U-ramp
Honza Chalupský - many times Master of Czech Republic in aggressive skating and many times ViceMaster in miniramp.
Ivan "Zobák" Pelikán - legend of czech skateboarding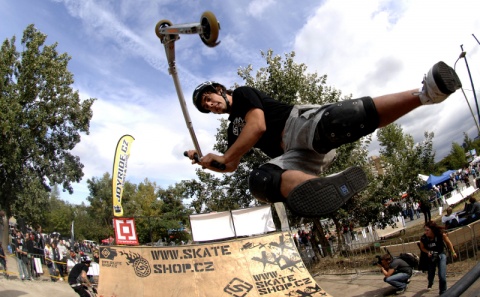 We thank you to the partners, without them it wouldn´t happen:
Campingaz K2 Skates CZ
Hejduk sport Powerslide CZ
Sprint Roces CZ
Winner sport Fila CZ
Tempish Olomouc
Hyperwheels CZ
Sidas
Inlineskola.cz
Prague City Roller derby
Scootshop
CAFB and FSK team
Roller Team Stars Praha
OC Galerie Harfa