On Saturday September 9, 2017 we organized testing of skates of italian brand Roces, which determined trends in inline skating already in 90th and belongs to the oldest brands dealing with production of inline skates in the world. Which skates italians produce today, you could personaly see at Inline Centrum Test Day Roces 2017 in Landronka. 
The whole Saturday afternoon, to your disposition was stand with skates Roces, thanks to which you could try few models of skates from actual models of skates from actual collection 2017. For all we mention f.e. skates Roces Argon or Roces Xenon. Except of classic fitness skates, skates with softer comfortable textile shoe, there also were great freeskate skates and children´s skates with adjustable sizes Roces MOD.
There were strongly represented trek skates, which in last years alco come to be popular. They are retro skates, which were popular in 80th and they are significant with 4 wheels, which are attached on chassis next to each other like on skateboard, thanks to wich they have different riding features than classic skates inline, therefore skates with wheels in one row. 
We were interested in models with skelet shoe on 90mm chassis, which glue the hole in the market in segment of stabile faster skates intended for cyclo paths.  Specifically model Roces Vidi with 90 mm wheels, which ensure fast ride for more experience men and women skaters. You could also see models with comfortable fastening on tying wheel ATOP at model Roces Gymnasium, which by help of rope with easy way tightens shoe of skate and ensures then comfortable and fast tightening of leg in skates. 
In testing permanence there were also three-wheel skates (model Roces X35 3x110 TIF), which are still more and more popular and are clear trend in segment of faster inline skates with larger wheels. The same almost racing model Roces S-Lab was all the time in seeking of interested people to try these sport skates.
For testing there was also selling exhibition Hydratation with no fun, where you can met in our stand with bidons, water rezervoars, bottles and thermos from world´s known brands on the top with american Nalgen, which is number one in world´s segment in american market or growing up Hydrapak. The offer expanded brands Source and Mizu.
Selling exhibition had to show you more practical and mostly ecological way, how to dispose with fluid and how to easily and with unnecessary waste of cheap PET bottles to save health and environment.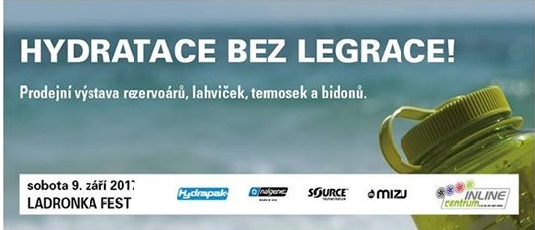 It´s really up to us if we will drink from PET bottles and use one after another, or if we buy 100 % BPA Free product, which we can use again and again and for a long time. Bisphenol A is to health harmful substance used for production of some plasts f.e. PET, which after using is released to the water. Exposition of this substance can higher also health risks. By using products BPA Free, use save nature and also your health. 
Inline Centrum Roces Test Day 2017 was interesting preparation for next larger event Inline Day 2017 and unique oppoturnity to try skates of legendary brands Roces, which from the new season we are adding to our offer.