Basic preconditions of correct choice of inline skates in our store is exact measurement of foot. We measure size using Sidas Feet Revelator, which measures three variables. Length in mm, width in mm and type of arch. According to these information we then choose the correct size.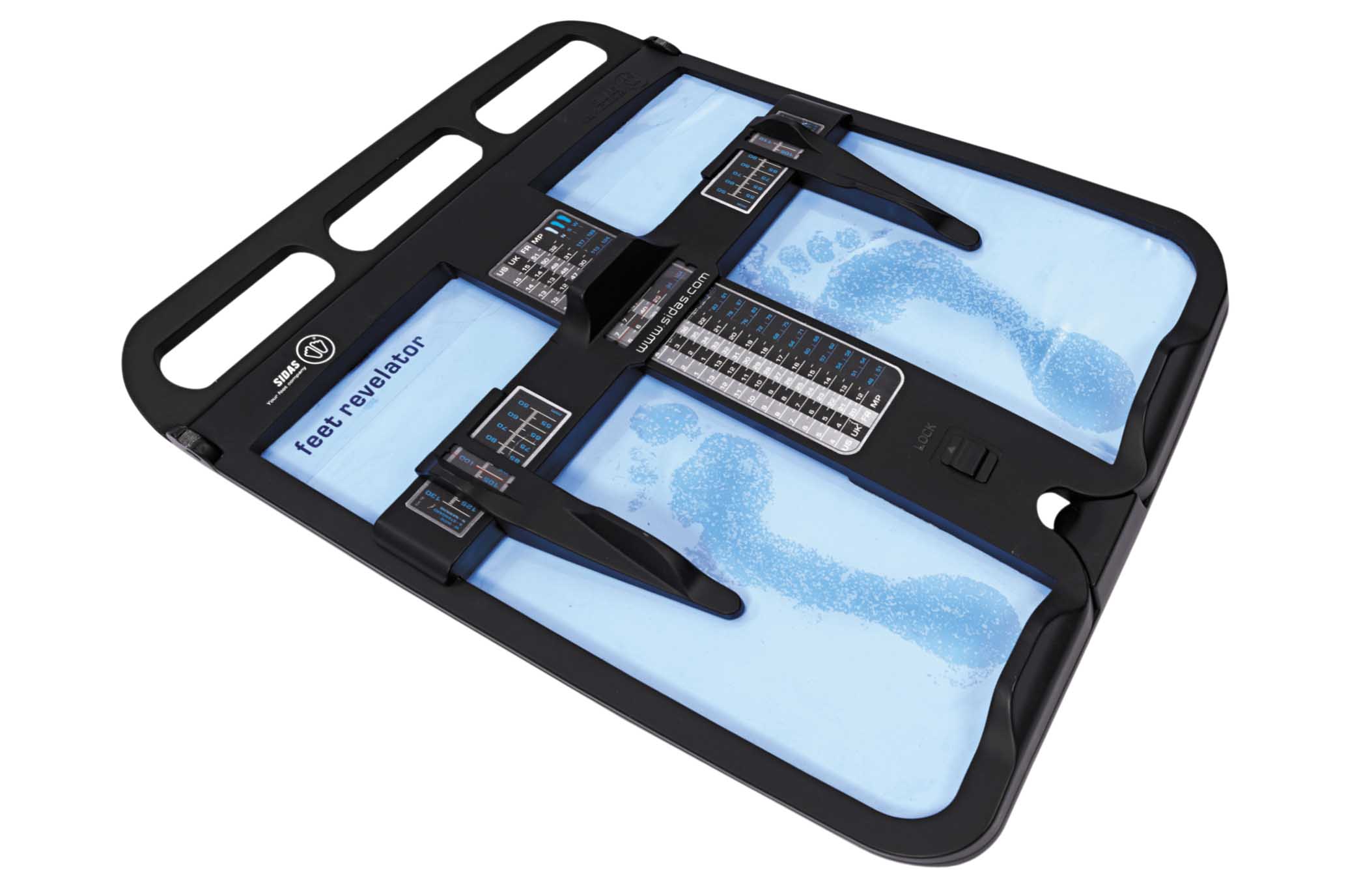 We do not focus on common general size 43 EU or 9 UK. We take it more as indicative information. The reason is simple - each producer have size 43 different (length, width). Choice based on measured milimetres is more precise. The reason of measurement is therefore simple - we want to offer you the best skates for you (and which fits you the best).
Further information about foot measurement and about insoles are in our  article and on our blog
What to do next? How to choose correct size?
First of all, it is necessary to realize that you can find it out only in skating posture when you have skates tighten well. Which means in standing position with slightly bended knees - this is very important. Many customers assess the size while sitting down when the skate is not tied. Therefore the foot is not in proper position in the skate and it can hurt although it would fit after proper tightening. Customers very often buy skates in size that is too big for them.
Tied skate should surround the instep well - once you lean a bit on the outer side of wheels, the skate should provide goot support. You should feel the support mainly in outer side of heel (because there is the most amount of transfered energy). In ideal case you can lean comfortably on whole outer part of foot.
Position of heel and ankle - the heel should not significantly move to the sides or lift. This is provided by good choice of shape of the skate, but primarily by good paddig in area of ankles which secure the heel, surround the ankle and therefore offer perfect position. Ankle should never hurt, it is the most common area of discomfort and cause of sores. We recommend to try the skates in shop for 5 minutes at least. We know, that skates that is slightly tight around the ankle after first try can fit perfectly after couple of minutes.
Toes - toes should definitely not be bended. Perfect is either little touch of tips or slight distance in front of toes (depends on certain type of skate). This is important even ifall requirements mentioned above are meet.
Common thing connected with fitness skates is that the boot touches the toes from above. In case the boot is made of soft textile and skates fits well (you feel only slight contact), the skate usually adapt after some time. But of course it depends on certain material - textile is more adaptable thatn PU leather imitation etc.


Calf/shin - calf often hurts in skate boot, especially for women. It is because women have calf a bit lower than men. Lady skates are surprisingly wider than mens. If your leg significantly hurts in this area or you can´t lock the upper buckle properly, it is necessary to choose another type of skates. Again - keep in mind to try skates in skating position with bend knees. You are certainly not able to make your choice properly without that :)

Upper buckle/flex - Another common mistake is too tightened upper buckle. Here it depends on skating style. Generally, the faster you want to skate, the longer slide you want and therefore the less effort, the softer the flex is needed (forwards). The reason is simple - posture (you bend your knees more and shoulders are a bit forwards). Skating is done with bended knees in general. Therefore soft forward flex (=easy movement of the calf towards the tip) is useful! If the upper buckle is too tight it makes you stand too straight or can cause shin sores.